ElleAyakashi
---
・30♀・Cybernetics Engineer・
・Español・English・日本語・
・Mother of 4 cats・
・バンギャ・Soccer・Books・
・League of Legends・
I studied Cybernetics Engineer and I have an Especiality on Information Technology's Systems Management. I have been working as Infrastructure Project Leader since 2015.

I like Visual Kei a lot and I talk about it a lot on my social networks. Also my favorite musician is MASASHI (Versailles bass player).
I'm studying japanese and one of my hobbies is to translate stuff (mainly lyrics).
And I have a site dedicated to Versailles and their members' projects.
Books
---
A Song of Fire and Ice (aka Game of Thrones)
His Dark Materials
Harry Potter
Hunger Games
Hush, Hush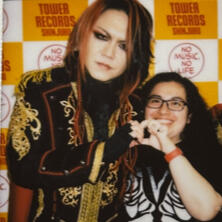 Series
---
Game of Thrones
His Dark Materials
The Boys
Malcom in the Middle
Chilling Adventures of Sabrina
Breaking Bad
La Casa de Papel (Money Heist)